Best Ways To Improve Instagram Video Ads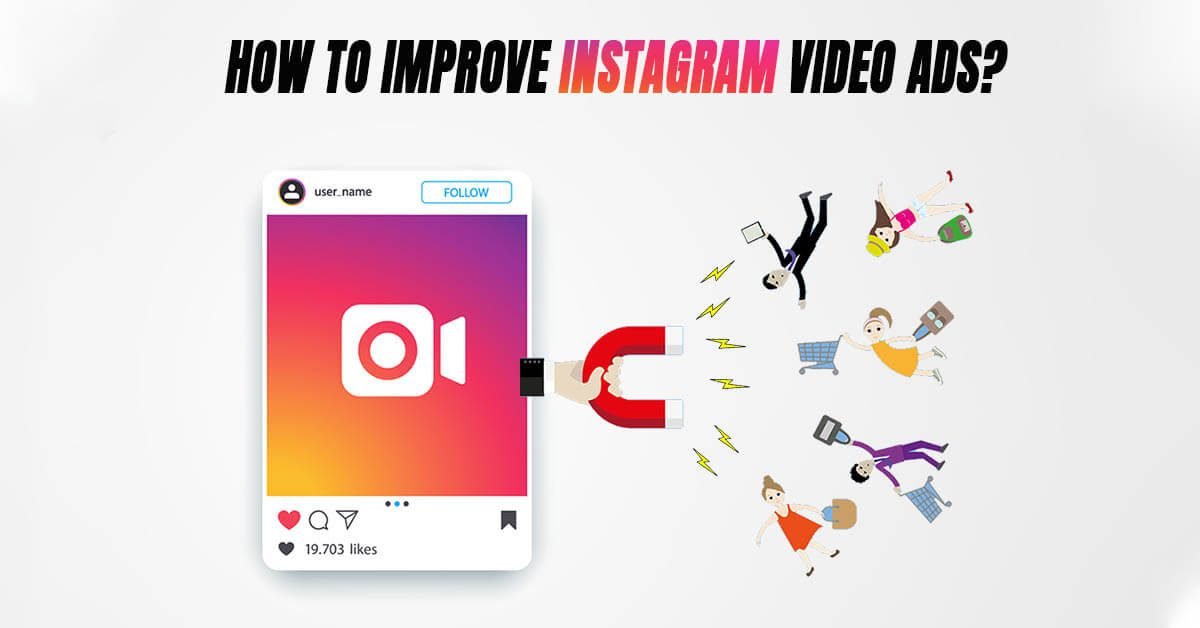 Let's Find Out The Ways To Improve Instagram Video Ads
Why focus on Instagram video ads and how to improve Instagram video ads? Let's find out
Instagram is one of the most widely used social media platforms worldwide. Hailing now from the Facebook family, Instagram has emerged as one of the most influential and feature-equipped social media hubs. It enables people and firms to connect with like minds and potential growth outlets virtually.
What makes Instagram a lucrative platform for businesses to experiment on and look out for development and growth areas is its vast user base of about 400 million. Also, the features of carousel ads, stories, and video ads are bingo!
Ahead of this, we're all aware of the fact that people like to see more of visuals. Lesser, concise text and lots of visualization to look at is a trend no business can ignore.
Hence, Instagram video ads are a luring as well as a creative way to create connections with your customers. Like any other advertising campaign, Instagram video ads must rely on their quality to attract an ample number of customers and keep them engaged.
How to improve Insta video ads is just what this article is all about.
The importance of video ads in the form of stories is also enhanced as regular users do not update their stories as much as they do their feeds. This helps advertisers to stand out of the crowd of Insta users and market their product with accuracy.
The following points are a must on how to improve Instagram video ads:
1.

The beginning is the most crucial:
This is something one can relate to from personal experience. As a viewer, if one doesn't find the first few seconds engaging, they hardly give a shot to watching the complete video. Hence, employ your most creative mind to create the video ad's plot and make it's beginning as engaging as possible. It should have enough momentum of sound, effects, movement, and visuals to pique the viewer's interest.
2.

Insert text:
Since audio is kept muted by default in Instagram, insertion of text makes a good impression on the viewer and helps convey the vital message even if they can't hear the audio playing in the background, by using text more than just captions. Use alluring effects to get your important thoughts across to the viewer's end. Instead, keep in mind not to use too much text and make the video look boring and over-stuffed.
3.

Keep your eye on one goal:
Focus on one central theme to weave each ad around. This gives clarity of content to the viewers and prevents vagueness. This could be brand awareness, product insights, or customer reviews. Do not try to cluster all into one single ad. Avoid making your video look like a pitching ad. Instead, tailor it for your customer. This creates a connection between your brand and customers.
4.

Shooting in the appropriate dimensions is one of the major ways to improve Instagram Video Ads:
On Instagram, dimensions are the king. In the case of stories, you need to shoot the videos vertically and keep in mind that the video fills the entire screen. The best ads are those that fit into the whole screen. An editor format of 600*600 is recommended, while a 1:1 ratio is the key. The dimensions can be adjusted as and when required, with the same aspect ratio.
5.

Please keep it simple:
Make it easy for your customers to track the content you want to direct them. Instead of asking them to go to a link in your bio, try to incorporate a 'learn more' option in your ad, which does precisely the same- directs them to the desired web page.
6.

Optimizing your landing page can improve Instagram Video ads performance:
If an ad has a learn more option and swiping up, the user lands on a page that is not optimized according to the device they're using. It creates a wrong impression. Keep the landing page of your website optimized to be accessed via a mobile. This is because Insta is accessed mostly through mobiles.
7.

Provide solutions:
We're all in search of answers to our problems. A good Instagram video ad should identify a problem that your potential customers face and provide a similar solution. This helps develop an emotional bond with them.
8.

Brainstorm on the thumbnail selection:
Your video's thumbnails will decide whether the viewer will turn on the volume, watch your hard work, and finally visit your web page and become a customer. Hence give an ample amount of time to select the best and most alluring thumbnails for your video.
9.

Loopable videos:
Try creating loopable videos with the correct fade-in and fade-out effects at the intro and outro, respectively.
These are the points we need to focus on & improve Instagram video ads.
As mentioned earlier, these points will get you through to developing the best Instagram video ads and increase your customer base. The more time you spend in curating an apt video advertisement for Instagram, the more your brand will flourish.
You can start your own advertising agency and cater to the needs of different businesses.