Top 13 Benefits of an Online Community [UPDATED]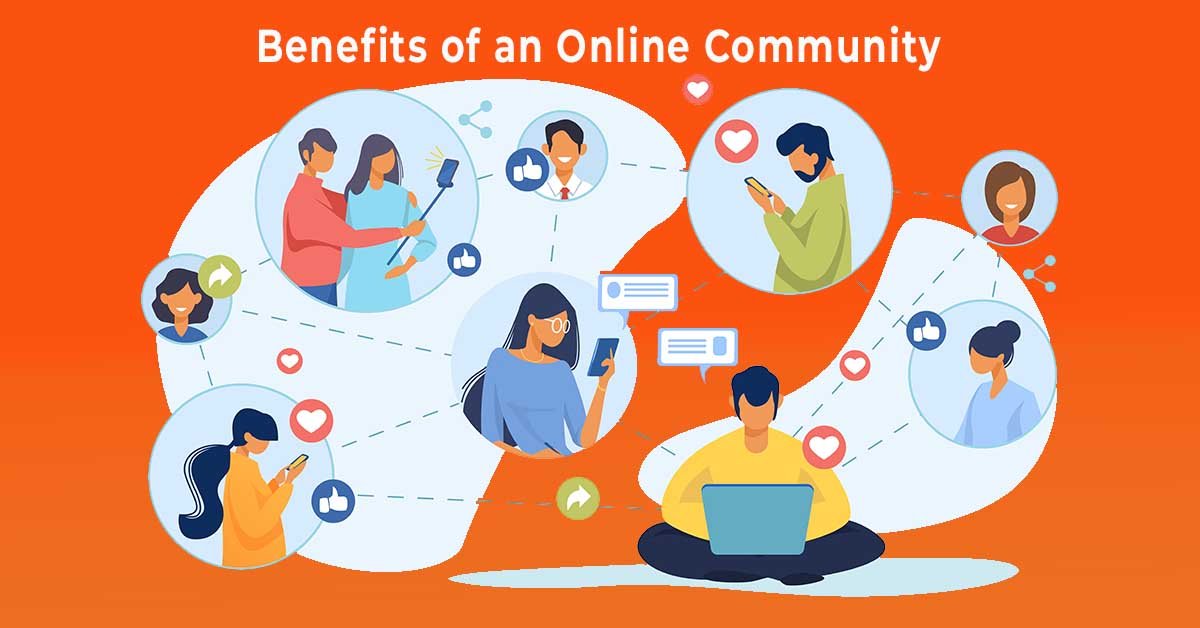 Benefits of an online community in 2021
The Internet is the new fourth world. Every little aspect of human life today is influenced by the Internet to varying degrees. All our basic lifestyle chores are linked to this online world, the fourth world, as we may call it. In this article we will discuss the benefits of an Online Community in 2021.
Building an online community has become the centre of online development. Be it personal or organizational. An online community is imperative because of the various perks that it brings along with the promise of retaining touch, even over a long period.
In the current world status of growing online activity and lesser time to interact, online association with firms and individuals is a big yes!
An online community is an asset that can help one increase their organizational and individual reputation, gain access to customers or services overseas, and enhance productivity.
Unlike what it looks like at first- a sheer no use, an online community can be made one's most significant asset in the long run, provided they give their best input to building and maintaining it.
Benefits of an online community can be many, but they depend on the kind of stuff you are dealing with. So let us have a quick glimpse into the perks of an online community:
    No geographical limits: 

One of the most lucrative benefits of being a part of an online community is that one can gain access to people and services beyond their remote location. This is particularly of great importance when one has a business model, the profit of which does not get affected by the cost incurred in transportation distance between the supplier and the consumer. The advantage of this can be seen in the case of student and instructor interface as well. The online community hence serves to bridge the gap between people connected either for personal or professional reasons.
    

Easier dialogue:

 

Remember the days of having to call for every little detail you had to discuss? And the irritation of being unable to get a response urgently? If there is one thing the Internet has created a revolution in, it has to be efficiency in terms of dialogue. One now doesn't have to run miles to know the price of a commodity he needs to buy and decide his budget. One also doesn't have to wait in long queues to get their simplest of queries answered. It is all available, just a single click away.
    

Customer support

: 

One of the most prominent parts of a business is how one handles the customer. Social customer service can be time consuming and unexpected, hampering the entire schedule. But nothing is more important than a satisfied customer. The loss in customer loyalty is a direct loss to business and is too crucial to be ignored. The use of online forums and discussions streamlines the flow of complaints or questions from the consumer to the provider, saving both cost and credibility as an organization. Furthermore, it helps understand a beneficiary's expectations from the organization and improves the scope of necessary amendments in policies and tactics.
    

The wildfire effect

: 

If your customers love your service and customer support system, they will spread the word freely over these online forums. Thus enhancing your consumer base. This is a direct profit, which comes as a by-product to the efficiency you show in handling one of the aspects of business. The advertisement that a brand or organization does for itself, is natural and often might fail to clear the doubts pertaining to value for money. On the other hand, reviews and testimonials from other customers influence viewers more.
Reducing costs

: 

The maintenance of an online community reduces the cost on many levels. This includes reduction in customer support costs, reduction in communication costs and the need to maintain several employees for these jobs.
Once you've set up a worthy enough online community, it becomes an online hub where people connect with like-minded people, over different geographical regions, and share ideas without any bar or censor. This creates an online forum, where customer reviews and comments often do wonders! The routine of a healthy dialogue within a mature community of loyal customers and the organization as a moderator can provide solutions to problems in the most unexpected fashion. Also, it can help to identify flaws in the functioning of the organization, which might go unnoticed otherwise.
Efficient and Effective with Time and Cost

:
Online communities provide us an added benefit to accelerate our market research, Parallel process provide us natural benefit of online communities. Online communities allow research questions to be answered within hours, days or weeks. But you no longer must wait months to get your responses.
Through online community with active engagement and incentives can reap all the benefits of having marketing intelligence at their fingertips. Deeper engagement also comes from early engagement.
Organic feedback can be gathered

:
Community that have engaged members contain discussions regarding the community brand or topic. Without implementing any specific research questions, unique insights can be obtained by listening and observing the community and can gain organic feedbacks.
Results can be gathered quickly:
With online communities (depend on the size and engagement level of members), a research questions can be answered in days rather than weeks or months. and no more time will waste.
Customer advocacy and products /services affinity
Improve natural search and social media optimization (brand and products/services)
Real-time market research and consumer's intelligence.
Enhance channel presence, web sales and referrals.
Companies can instantly connect with their customers:
Feedback from these customers is extremely valuable, branded community allow a brand to tap into one of its most important resources – the customer. By this they can
contact their customer gain engagements.
Customer Service and Support:
Increase volume of inbound support calls
Improved customer self-services etc..
Higher customer retention
Enhance customer's satisfaction
Keeping customer support and engagement
Customer's service agent's collaboration/knowledge sharing also.
Building an online community is hence an unparalleled tactic to provide a major boost to your performance as an organization or individual. It also opens the opportunity to generate Income. This helps aggregate the positives and eliminate the negatives as far as you give proper attention to the process of regulating one.
Click this link to become a part of our growing Online Community
In the words of Bill Gates, The Internet is becoming the town square for the global village of tomorrow.