How to Outsource Work Without Losing Out on Quality?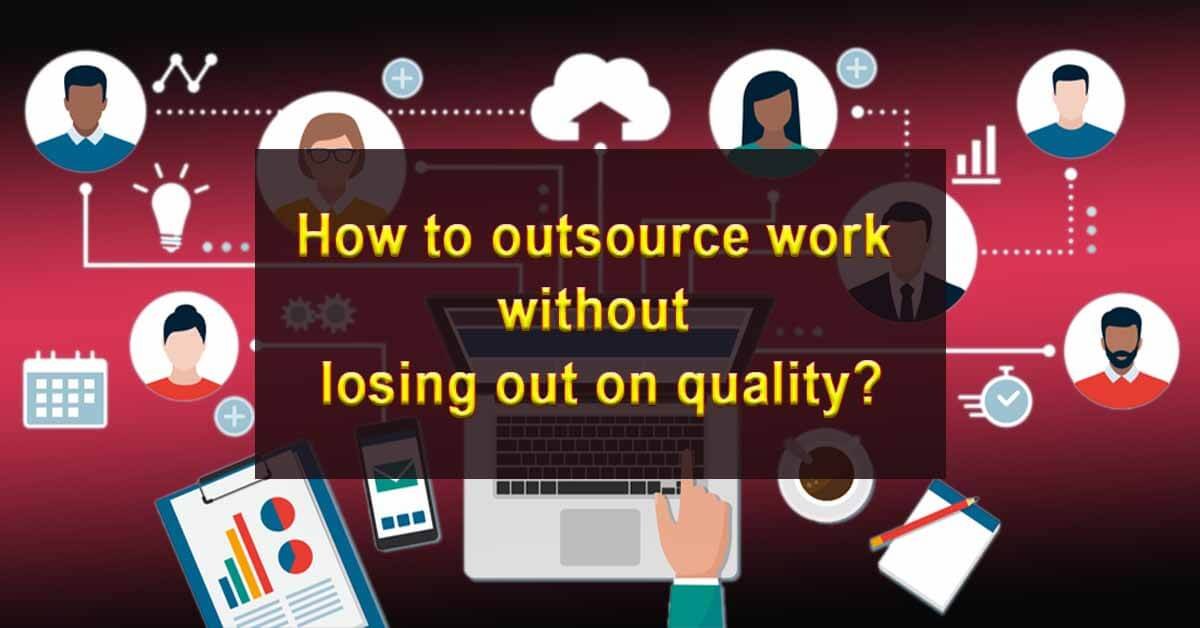 Want to outsource your work and don't want to compromise on the quality of work?
How to outsource work without losing out on quality? Time is one asset every business person is always short of. They are either running behind the expected deadlines or expecting too much. This implies one ever-increasing problem- stress. Hence the market is booming with the craze to outsource work.
This is becoming a common problem experienced by most entrepreneurs with a lesser number of team members and a lot yet to be established. New start-ups suffer from a lack of huge funds, making it difficult to manage and command a large team.
Different businesses have different inherent requirements of tasks to be accomplished and executed.
To make it easy for the team to meet deadlines and get the desired amount of work done within the desired time frame is a pretty frightening challenge in today's era of price hikes and neck-cutting competition.
Work outsourcing is one very efficient way of getting the work done. But the nagging of quality depreciation is a challenging part of getting over, especially if you are a quality-buff rather than a quantity enthusiast.
With solutions come opportunities, so let's look at how to outsource work without losing out on quality.
But before we delve deep into the outsourcing tips, it is essential to know what outsourcing means.
What is work outsourcing?
Outsourcing work means to get the task done by someone outside of the team or organization. Outsourcing work is one way to relieve the team of unnecessary pressure of pending deadlines. And on the lighter part of the big picture of conducting the company efficiently.
Outsourcing can be done in many ways, including hiring interns, freelancing, and taking help from call centers to hire potential candidates.
It is of utmost importance to decide what work to be outsourced, the person taking accountability for getting the outsourced work done in time, and keeping a keen eye on the quality of work.
To get the most out of your outsourcing plan, the following points need to be taken care of.
Make a priority list:
This goes without saying that every task needs to be done, implying proper planning and that begins right from making a priority list. Be sure of what needs to be done at the earliest and what can wait.
Decide what can be outsourced:
There are tasks that need to be done but are too little to get your early attention and dedication. An exhausted mind doesn't work as efficiently as required.
But there are tasks that need to be done at the most precise level but are too important for the team's success to be handed over to someone completely new to your organization and its expectations.
Hence it is essential to decide what task you really can outsource and what not.
Make a detailed plan of the work to be done and then decide the work to be outsourced based on the following key aspects.
Outsource the work which is not very technical and complicated.

Figure out what tasks you and your team are not the best at.

The kind of work you seem not to be the piece of cake of your organization can be outsourced. Who knows, maybe the person who does it for you might be better at doing it?

Decide what work needs to be reviewed before being executed on the ground. You can employ someone with good proofreading skills to review the quality of your work too. This can be a question of your company's reputation.

Create a spreadsheet to track the deadlines and make sure to take timely updates for the same.
What not to outsource?
The thought of getting work done by others can get tempting at times. Who doesn't love cooked food? Especially if the person is worth the trust.
But the one point to be kept in mind when deciding the appropriate tasks to be outsourced and others that need to be done by your own, careful hands is credibility and its repercussions of failing.
Brainstorm on the aftermath that a slight mistake in the execution of that task can cause. And whether it would be reparable or no.
 If not, do not outsource that work to a newbie. Blame games can only reduce guilt, but not the damage that has already been done.
Conclusion
Work outsourcing done in the right way can yield better results than one can think of. It also introduces variety to the kind of content that comes up as a result of the task being done. Also, it benefits the team by reducing unnecessary pressure and making it easier for team members to focus on more important work. You can outsource your work to a reliable agency or a freelancer.
Also, with the right measures and strict scrutiny of the work being delivered, the risk of quality depreciation can be minimized.
Work outsourcing, therefore, is a healthy practice if appropriately observed.