7 Incredible Ways : How To Write SEO Friendly Article For Beginners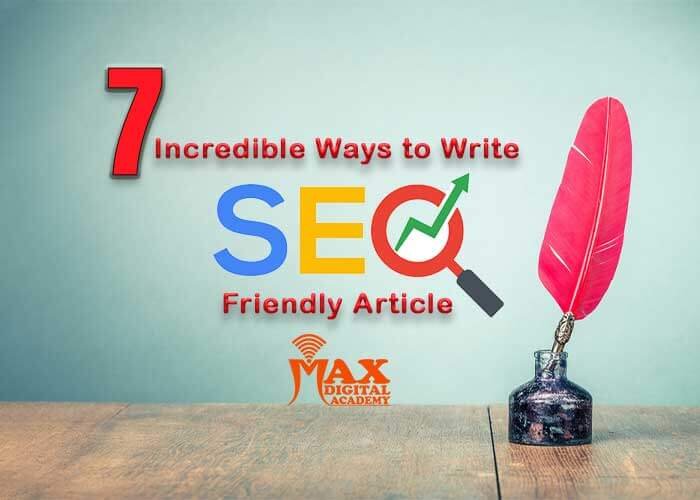 How to write SEO Friendly Article ? 2021 [UPDATED]
Writing articles and content for websites is a skill. And like any other skill, it can be improved by practice. Writing SEO friendly articles for your website to get you more traffic from search engines seems like a tough nut to crack, so we bring you this article on how to write SEO friendly article that will sort major issues for you as a beginner.
I know writing an article is not an easy task, especially when you are writing SEO friendly articles for the first time. Many people think SEO is challenging, but actually, it's not true. There are few easy steps to make your article SEO-friendly. Things like the title of the post and description, blog structure, headings, and paragraphs, are straightforward to fix, and it plays a notable role in ranking.
What a good article contains?
Like I said before, excellent writing can't be taught but, good writing definitely can. As a writer, you are eventually a storyteller, conveying the story of your experiences through different mediums and reframed for additional viewers. So please write to the point and choose eye-catching keywords; try to use them periodically. Here are some best practices for generating impressive, captivating articles:
Use Relatable Examples:
Strong, relatable examples give writing more power. When you are writing, avoid purely theoretical material, share your exciting experience with your reader as a reference frame. Your these stories will stay in readers mind longer than facts or numbers.
Don't Hide Your Voice:
Give your readers a unique voice. Don't be afraid to be funny (if you're funny), quirky, even a little weird. Your authentic voice is one of your greatest strengths. The more you sound like a human being, the more are the chances people will want to engage with you.
Target your Audience:
 Your article for SEO is not your diary. Before starting to write, you should know your target audience, whether the public or some business holders and then write according to their taste. Make sure you choose language suitable for the audience you're addressing. If you're writing for a broader audience, try to use words that are spoken daily. Keep paragraphs short and on-point.
Writing for SEO
Keep these tips in your mind; crafting a good article should be simple. By optimizing your content to appear more often in search engine recommendations, you will be increasing both visibility and trustworthiness.
Although getting traffic on a website requires a lot of SEO techniques. But writing content that is SEO-friendly has its own importance. So here we will discuss a few ways on how to write SEO friendly article.
7 Incredible ways to Write SEO friendly content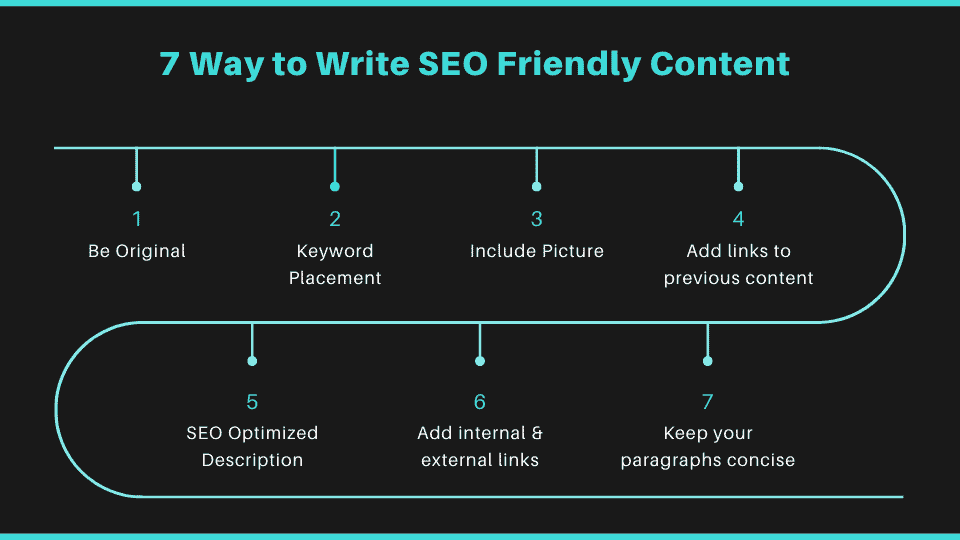 Be Original:
 Popular SEO keywords in your articles are one of the best ways to drive up your recommendations. Choose organic keywords to create SEO, friendly content. Readers, who spend a lot of time on the search engine, are particularly capable of noticing if you've just stuffed your work with words.
Keyword Placement:
Make sure you optimize keywords in your SEO articles by placing them in your titles and subtitles. Create a hierarchy of keywords and use the most search generating upfront. Be assured to use your most important keywords in the title.
Include Picture:
Include images with alt text to get your page more shareable and show up in the search engine. Image-driven content is getting more and more play as a digital marketing technique, and it is particularly suited to viral your content within a short time space.
Add Links to Previous Content:
If you want to rank your older content and to drive traffic higher, then add your last content link to them from your newer posts.
How to write SEO Optimized Description:
The SEO description tag summarizes the article in less than 156 characters. When you search for something or a keyword on the internet, the result displays you on the same website with three choices: Title, Permalink, and Description. So optimized your description to be informative and eye-catching to encourage readers to click your link and visit your article.
Add Internal & External links:
If you have previously written an article related to topics or the same topic, don't ignore to add the link of your previous article writings. It determines your authorization over the matter and, more substantially, your readership. Adding links to articles also crucial for google ranking.
Keep your Paragraphs Concise:
Don't use more comprehensive sections that distract readers' minds. They might get annoyed because most people read articles from mobile phones, so if you use short paragraphs, it can be easy for them to understand well and read more focused. The content should include  Heading Tags in a hierarchy that gives a proper structure to the content and indicates sections in a particular content.
By using these tips, I hope you will be on your way to a higher SERP ranking within no time; and you'll be enhancing your reputation as a quality content provider at the same time. If you have any questions related to this article, you can ask us on our Facebook group.
This blog precisely indicates how to write SEO friendly article & get more traffic.