13 Incredible Ways: How to Increase Your Ecommerce Sales in 2023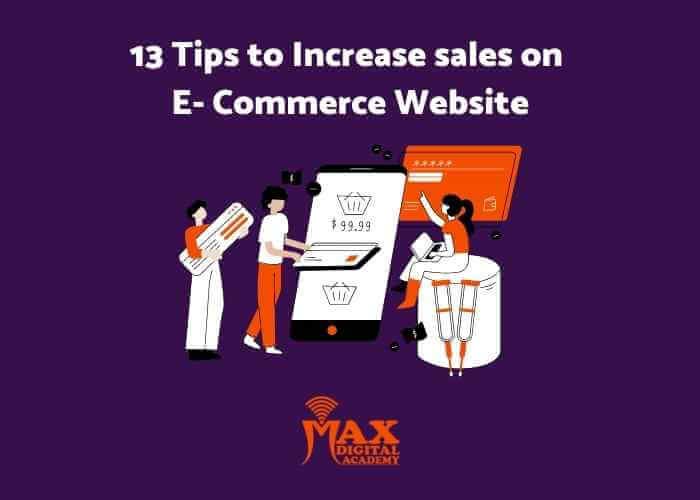 This pandemic changed the way of shopping more than ever. Today 95% of people are shopping online which gives a great opportunity to those who want to start an online business. So here are a few tips & tricks which will help to boost your e-commerce sales in 2023.
1. Understand your target audience
To understand your audience, you have to make the right decisions about your products & services. When your store is online, it's really very tough for any consumer to trust you at first. You need to make clear and transparent terms & policies to gain their trust. Define your brand values which will help you to create brand awareness among your targeted audience.
2. Showcase customer feedback & testimonials
By showing your customer's feedback you gain the trust of your prospects. This will lead to more conversions in the near future because today all online shoppers see the reviews first before buying any product. This is one of the most essential weapon to add to your website to increase your online
sale.
3. Money-back guarantee
Online shopping provides a virtual platform for any user which means you can't see or touch the products. You can only see the images of the product &
read the description which is mentioned on the site. So if a user is buying anything & is not happy with the experience of that product then an easy return/ replacement or money-back guarantee will build trust in the product. This will build the confidence of the user in your products & service & they might explore all the products are available on your site.
4. Provide all possible payment options
To make payment hassle-free for your user you should provide all the possible payment options so that they won't face any issues buying your products. This will increase your online sales especially when you have strong mobile traffic.
5. Give lucrative offers
Users love free stuff so try to give anything for free in your current offer. We can take the example of Myglamm. They are having lucrative offers. They are giving codes to get 1 liquid lipstick for free or if you buy 4 liquid lipstick then you will get all at Rs.395. So to make your brand popular you have to give some freebies to your user.
6. Low shipping
The user generally prefers to order the product from those websites which offer them either low shipping or free shipping. So try to fix some amount
above that, if the user purchases in combinations then you should offer free shipping or as low shipping charge as possible.
7. Do SEO for your website
SEO improves your website ranking which will bring quality traffic to your website. It will help you to rank your website on the first page of the search engine result page(SERP). For doing SEO for your website you will require some knowledge of SEO tools. You can learn more about a few free SEO tools. 
8. Optimize for mobile
Mobile optimization is the process of adjusting your website content to ensure visitors can access the site from mobile devices. Optimized content can be easily viewed on both desktops and mobile.
9. Reduce website load time
According to Google market research, 53% percent of mobile users leave sites if it takes more than 3 seconds. Time is valuable so loading time should not be more. You can analyze your site's speed with Google PageSpeed Insights, Google's Test My Site, or Pingdom. These tools offer detailed information on the improvement of your website load time.
10. Social Media Marketing
Social media marketing is one of the best tools for creating your company's brand awareness. It helps to connect with your audience & understand what they like or dislike about your products & services. Major social media platforms are Facebook, Instagram, Twitter, LinkedIn, Pinterest, YouTube.
11. Pay Per Click(PPC)
Pay per click(PPC) will boost your online sale by offering a direct and easy way to reach your targeted audience. A recent study from Search Engine Land stated that around 75% of online shoppers found information about their products through paid ads on search engine result pages (SERP) and on social media. These ads help users to get the relevant information more quickly & easily which not only convert leads into sales rather they help to create brand awareness among the targeted users as well.
12. Install live chat
It's a wonderful way to generate e-commerce sales. It is also used to answer any query or doubt related to your product or service your clients or prospects may have. Any business site can get benefitted from this tool, even those sites can also use who won't sell anything from their site. This live
chat tool can also be used to gather email addresses.
13. Return policies
It is very important to offer good return policies to attract your targeted audience & also make sure to make it hassle-free so that the user feels secure & satisfied to buy any product from your website without giving any second thought. You should offer good return policies to your user & it is very important to make your users clear & keep your promise.
Starting an e-commerce business takes a lot more than it appears on the surface. After reading this article I am sure you all agree with this.
Be it the strategies or your online presence every bit counts. If you are thinking of getting your business online make sure to abide by all these points or connect with our growing agency Viral Addaa.
This article is submitted by our student Chitra Banerjee. You can follow her on LinkedIn