Earning Money from YouTube – an Ultimate Guide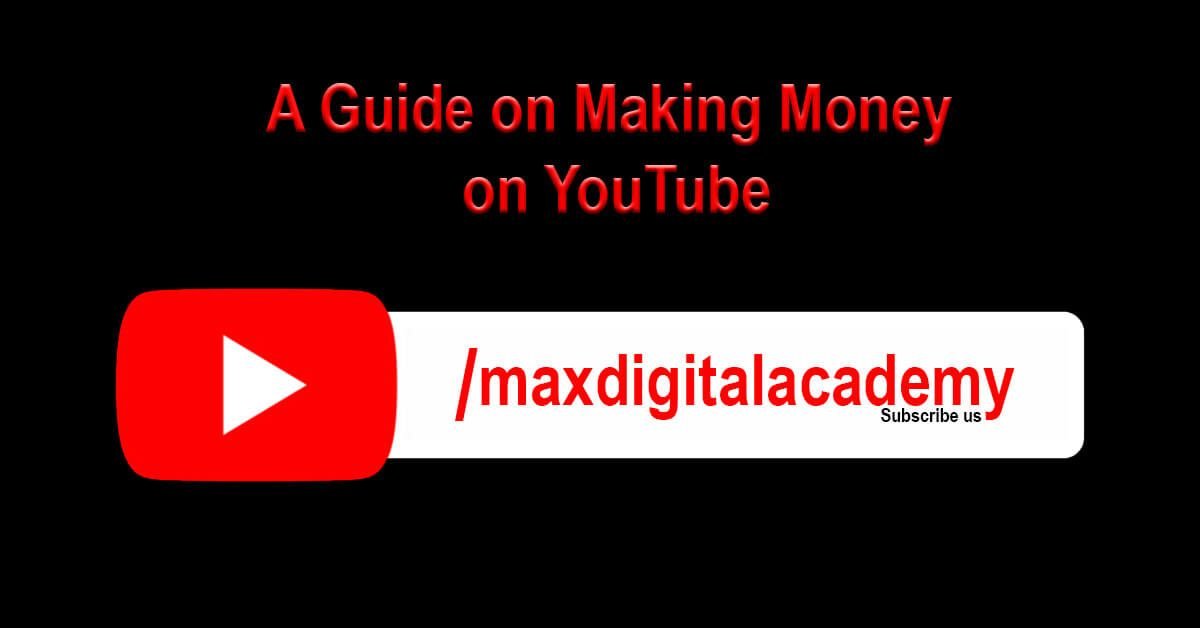 YOUTUBE is the most popular video-sharing network on the globe. It allows creators to publish videos to a worldwide spectator. Once the video goes viral, the creator benefits by achieving popularity. Many people have become favored, & made lots of money through YOUTUBE. Whether it is a gut-tantalizing recipe you're looking for or tips to increase your business growth, the DIY beauty hacks, or a dance tutorial on your favourite song, YouTube is the go-to application for it all. Whenever we think about free video streaming, YouTube is the first name that pops into our heads. A Google-driven social platform, YouTube has turned from a video streaming site to a full-fledged money-making site that has empowered people for a decade. In this article on earning money from youtube – an ultimate guide, we will discuss the best possible ways to earn money on Youtube.
Even though it is a twisted maze of techniques and efforts that get you through to making the desired amount of revenue from YouTube, the following guide on how to earn through YouTube, will make it simpler for you to tap into the monetary benefits it offers.
Earning money from YouTube totally depends on the number of engaging subscribers your YouTube Channel have. To grow your YouTube Channel, you need to master these –
How to Ace YouTube SEO:
Search engine optimization is a must for all platforms of business. To engage the most number of audience, learning to optimize the YouTube search engine is a crucial element. Make sure you use relevant and high ranking keywords. Following are the five critical YouTube SEO ranking factors to hold on to:
Subscribers, after watching a video

Number of comments

Video length

Thumbs up/down ratio

Click-through rate on YouTube Search Engine
Perform keyword research and look out for high-value keywords. Also, keep a check on your traffic source to monitor what people are searching for when they're viewing your videos.
Earn Money On YouTube – Without Having Millions Of Subscribers
We have created this article to walk you through all of the details that you will need if you are thinking of earning money through YOUTUBE. "Earn money from YouTube without having millions of subscribers" – till date this question has no answer but our short answer to this is YES. Thousand of people are doing it, and not all of them have millions of subscribers to boot. Though you can't have millions of subscribers on YouTube, but the views play a big role over here.
Check out some masterpoints through which you can increase your views with no time.
PLAN YOUR VIDEO – The aim behind your video must be very clear, your message must be direct & understandable to your audience. Think before you act because your one wrong gesture can make you lose many views.
ENCOURAGE VIEWERS TO SUBSCRIBE – Though you have numerous viewers, your endmost target should be having numerous subscribers. The best way is to simply ask your viewers to subscribe to your channel at the beginning & at the end. Make sure to prompt your viewers to turn on the notification bell once they've clicked subscribed.
PROMOTE OTHER VIDEOS WITH END SCREENS & CARDS – Cards & end screens are tools that you can use to promote your videos to get more views on YouTube. An end screen is a dedicated frame that you can place at the end of your videos to wrap things up, & highlighted the call-to-action.
How to Build audience loyalty on your YouTube Channel:
This is very important as YouTube demands a certain number of hours of watches on your video to count you as eligible video creators. A loyal audience that trusts you can be gained by posting videos that offer solutions to common problems. Also, try to bring in proofs of the credibility of your suggested remedies. When your audience trusts you, they will also believe in the brands you promote. 
By using the above-mentioned tips, you can build huge followership on your YouTube Channel and start earning money from YouTube.
YouTube could be a money-making machine. Following are the w
ays through which you can start earning money from your YouTube Channel
By creating Product review Videos & use of affiliate links:
If you refer to a product in your video, providing a direct link to that item will lead your viewer to visit the product manufacturer. If your audience decides to buy that product, you can earn through commissions. For this, all you need to do is include the link to buy the reviewed product in the first few lines of your description and speak a few sweet reviews about the same. Using Affiliate Marketing, you can start earning money from YouTube. For more insights on Affiliate Marketing read the article on A Complete Guide to Earn Money with Affiliate Marketing in 2021
Avoid crowding of the link everywhere. It works just as the placement of links in blogs.
Become YouTube Partner:
Another way of earning money from YouTube is to become a YouTube partner. As a YouTube Partner, income can be generated in multiple ways. You can earn money from ads before your videos, channel memberships, or Google AdSense banner ads. Though, there are some basic, essential rules to observe before becoming a certified YouTube Partner. Apart from adhering to YouTube's ad rules, you must assemble a minimum of 4,000 video watch hours on your channel in the last 12 months and have 1,000 subscribers.
Make most of your YouTube Marketing Funnel:
Customize your YouTube funnel for sales as per your channel. Pick your niche of videos, gain YouTube partnership, and start planning a marketing funnel. It is always advisable to start a blog in collaboration with your YouTube channel. This way, you write something about the topic in your blog, post a video about it on Youtube, and gain more reach. Some people prefer to read the same thing without worrying about internet speed affecting the buffering of the video. Also, when they read, they might be intrigued to see the thing unfold in video format. This is one way of doubling your income. Using a blog to promote your videos on YouTube is also useful. It helps you collect email ids of the interested audience and contact them.
Become an Amazon Influencer:
The prerequisites to become an Amazon influencer include follower count and other metrics. But the use of affiliate links to recommend valuable products through your Youtube account gets you your share of the commission, which is generally 8-10% of the total sales. 
Is it hard to start earning money on YouTube?
Considering the ever-increasing saturation in various social media platforms, making a profit has become very competitive over the last few years, but it is equally valid for traditional marketing. Earning money on YouTube should not be challenging if what you are serving your audience, is of accurate quality and with in-depth insights. Making money on YouTube is a multi-input funnel mechanism. This becomes a significant advantage for YouTubers.
Even though the income may vary from person to person, it depends solely on how you use the techniques described above and processes and the quality of your videos, their authenticity, and uniqueness.
So if you've got the knack for creating magic through the videos you create, YouTube is just the right Marketplace for you!
Very soon, we will be starting a series of videos on tips & tricks of Digital Marketing on our YouTube Channel. You can subscribe us for latest updates.